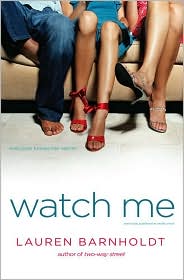 W a t c h M e
by Lauren Barnholdt
Release Date: July 6, 2010
Publisher: Simon Pulse
Other Titles: Two Way Street
One Night that Changed Everything
Age Group: Young Adult
Warning: Some sexual references/content.
Pages: 304
Source: Local Library
Go Buy It: Amazon
★

Barnes&Noble
★

BookDepository

Synopsis- "She thinks she has nothing to hide.




Ally has everything under control. She's about to move into a house full of strangers and have her life broadcast to the world, but as long as she still has her long-distance boyfriend, Corey, nothing can go wrong. Nothing, that is, until Ally starts spending time with her housemate Drew, the hot and sensitive guy who always seems to be around when she needs someone the most.






As suspicions and lies start pulling Ally and Corey apart, she's not sure if she can trust anyone, not even herself. Ally is about to learn the hard way that life is what happens when everyone is looking, and it doesn't always capture her good side."
Quick Thinking: This novel was a light and breezy read, something to have fun with. Amusing, authentic characters roam the pages of Watch Me, making mistakes and forging unexpected friendships.The story itself is intriguing, but may not be enough to completely captivate its audience's attention. And the romance springs up and fills the novel with a fluffy air, cuteness lighting up the pages. Watch as now-a-college-girl Ally allows the public to dip their hands in her personal life, as she learns the hard way that all isn't what it seems, that betrayal is never lurking too far behind, and that things don't always stay the same even when you want them to. Read while Ally learns that change might just be a good thing after all.

My Thoughts In-Depth:

*Warning: May not be spoiler-free.*

I really wanted to like this book. In fact, I was looking forward to this read immensely. And I ended up not enjoying it as much as I thought it would.

The first thing I noticed when I finished flipping the pages and moved onto another book was that by the time I finished the other book I couldn't remember the characters too well from Watch Me. That was a problem for me, the fact that the characters weren't fleshed out, didn't have any depth, and consequently remained non-memorable characters.

Starting with Ally, the heroine herself, despite the fact that the novel is told in the first person POV, I didn't get to know her, not really. I got a peek at her feelings when trouble arose, but I couldn't find any love or sympathy for her because I got the feeling that she wasn't very considerate (kind of on the selfish side, in fact), sliding toward co-dependent. I mean, I wanted to do an elaborate *head-desk* every time she got on the phone with her long-distance boyfriend. I totally understood that she missed him. But, still, she seemed so whiny. And readers, wouldn't you say that whining can be a tad annoying? That was bad sign number one for The Reader, the fact that I couldn't stomach the heroine and her actions. Her boyfriend, Corey, was not much better.

Moving on, what was up with her best friend, Grant? He's bisexual. Great for him. But if he was seriously struggling with the fact that his parents couldn't quite accept his life style choices and sexual orientation, shouldn't he be, I don't know, more conflicted. I liked his easiness and lightness, as well as occasional humor, but still. The heroine's best friend was pretty bland, bad sign number two.


What came as a surprise to me was that I really liked some of the other characters! Like James, Simone, Jasmine, and Drew. Not so much the parents or Ally's brother who pops in here and there throughout the book. James personality suited the ghetto image he was selling. Simone's sweet and naive nature made her endearing. Jasmine's hardness made her a delightful character. And I found Drew to be sweet with a little-too-much-perfect sprinkled in which fit him nicely. Basically, that was my roundabout way of saying that I liked the characters a lot although I didn't get to see much under the surface.


The story itself was lacking. I mean, the entire book surrounds Ally's life as she's being filmed for a reality TV show. It wasn't very interesting to read about, as I thought it would be.


What saved this for me was the romance/ending in the novel. Super spoilery (uncover by highlighting):
Drew and Ally made a terrific couple, the sweetness of new love sizzling in the air around those two. Even if they're feelings for each other seemed superficial-ish. Still, when the romance makes sense and the guy is smokin', what reader can resist, right?


So all in all,
Watch Me was an okay read. Nothing to write home to your cat about. But, I always say to try new things, even books I found to be okay and nothing spectacular.

Bffl (pronounced 'biffle'):
Jasmine. I'd love to learn how she applies such sexy makeup. After all, aren't best friends there to make you look good? (Just kidding...)

Wish-He-Was-Mine:
I'd have to say James...if I were desperate and ugly. Drew is the obvious pick. But he's just so hot and sensitive, I gotta wish for chance with him.

Frenemy:
Ally.
I don't think we'd make good friends, just saying.

Bonus Factor:
None.

Other Lauren Barnholdt Linkage:
Myspace/Livejournal


Thanks for reading!