Through the Grapevine is a weekly feature in which I dish on upcoming releases and bookish events circulating the blogosphere.
Fresh Faces
*the following linked titles will lead you to Goodreads.com*
(What is Goodreads.com?)
Phantom (The Vampire Diaries: The Hunters)
by L.J. Smith
Nightshade (The Poison Diaries)
by Maryrose Wood
Caleb's Wars
by David L. Dudley
Crave
by Melissa Darnell
The Iron Knight (Iron Fey #4)
by Julie Kagawa
Destined (House of Night #9)
by P.C. & Kristin Cast
Between the Sea and Sky
by Jaclyn Dolamore
You Are My Only
by Beth Kephart
Amplified
by Tara Kelly
How to Rock Braces and Glasses
by Meg Haston
Au Revoir, Crazy European Chick
by Joe Schreiber
PRIZED PAPERBACKS
Trickster's Girl
by Hilari Bell
Before I Fall
by Lauren Oliver
Frozen, Shattered, and Torn (Cold Awakening #1-3)
by Robin Wasserman
Future Finds...
to look forward to next week.
Reckoning (Strange Angels)
by Lili St. Crow
Crossed
by Ally Condie
Last Breath (Morganville Vampires)
by Rachel Caine
Happenin' Hotspots
The Event of the Season
Hosted by:
Small Review
and
Ruby's Reads
Taken straight from the
Historical Fantasy Jubilee
homepage
:
"Who: One and all

What: A celebration of historical fantasy with discussions, book lists, reviews, author guest posts, author interviews, and giveaways

Where: Small Review and Ruby's Reads

When: Every day from November 1st to November 30th

Why: Historical Fantasy brings together terrific settings, wonderful world-building, magic, and chivalrous men!"
If you
RSVP in advance
for the three special prize packs offered, then you can gain an extra entry in each one of the ones you signed up for!
Click here for the Schedule of Events
.
Haunted Halloween: True Tales of the Paranormal
Hosted by:
Confessions of a Bookaholic
and
A Life Bound by Books
Basically a compilation of author posts (interviews or guest posts) and super cool Halloween-themed giveaways! The
Comment Contest
,
YA Giveaway #2
, and
Adult Title Giveaway
are still running. As well as various other book and swag giveaways. Key chains, author-made bookmarks, jewelery, ARCs, chapsticks, pens, and assorted swag packs are being offered up for grabs. Don't forget to put
this button
in your sidebar for extra entries!
Click here for the complete giveaway page, which is updated daily.
Gratifying Giveaway Gleans
1300 Follower Contest
by
In the Hammock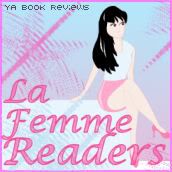 Trick-Halloween Favorites
&
Destined by P.C. and Kristin Cast Giveaway
by
La Femme Readers
Author Spills
Unearthly by Cynthia Hand POSSIBLY being made into a TV show on... CW 11!
Confirmation @
Cynthia Hand's Blog
Gina Damico's Croak's cover reveal
and
The Savage Grace by Bree Despain now has a cover
also!
What are you most looking forward to?