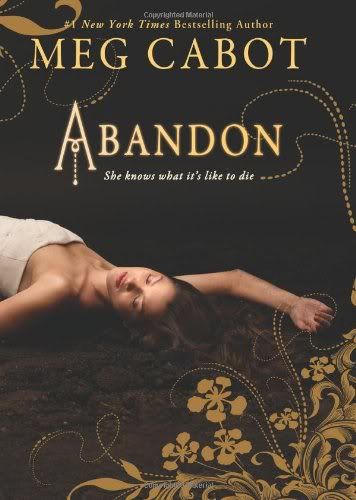 Abandon
by
Meg Cabot
Add it to Goodreads?
Purchase at Amazon?
Release Date:
April 26, 2011
Publisher:
Point
Age Group:
Young Adult
Source:
Library Check-Out
Rating:
Sud-Kissed
About the Book:
Though she tries returning to the life she knew before the accident, Pierce can't help but feel at once a part of this world, and apart from it. Yet she's never alone . . . because someone is always watching her. Escape from the realm of the dead is impossible when someone there wants you back.
But now she's moved to a new town. Maybe at her new school, she can start fresh. Maybe she can stop feeling so afraid.

Only she can't. Because even here, he finds her. That's how desperately he wants her back. She knows he's no guardian angel, and his dark world isn't exactly heaven, yet she can't stay away . . . especially since he always appears when she least expects it, but exactly when she needs him most.

But if she lets herself fall any further, she may just find herself back in the one place she most fears: the Underworld.
Abandon
is the first in Cabot's new trilogy, based on the myth of Hades and Persephone, a story with a twist on the classic Greek myth we've all pretty much encountered before. I've experienced Cabot's writing before and so I was excited to learn that she was putting a spin on a myth I love, one which I feel has yet to be beautifully, perfectly portrayed. Unfortunately,
Abandon
began as the read I'd hoped it to be but then slowly dwindled into something less than spectacular, although it's a much better retelling than the one I found in
The Goddess Test
.
One thing that remains true is my love for Meg Cabot's writing. It's simplistic, easy to read, and definitely entertaining. But Pierce's voice didn't shine through. I loved to speculate what had happened to her in the past, how this connected her to the mysterious "he" that seems to find her everywhere and how this connected to the Underworld. But Pierce as a character didn't quite work for me. I'm a character girl as much as I'm a romance girl, and despite the first person narrative, I couldn't fully connect with this relatively quiet, haunted girl. There's a lot of potential in Pierce, being that she's a sweetheart and very caring. But her narrative overall disappointed me, as a character she wasn't enough of a draw for me.
It's a good thing the suspense held me captivated, because otherwise my reading pace would've faltered out of boredom. I was much more concerned with the paranormal element, this dark, unexplained connection to the underworld, the enigmatic John, than I was with strolling through high school with Pierce. Who is John? What does he have to do with that ostentatious necklace Pierce keeps hidden beneath her clothes? And all the strange deaths, disappearances, and just general trouble that seems to follow Pierce wherever she goes? Although there wasn't much action, the mystery propelled the story and I didn't want to stop until my questions began being answered. When the truths did surface, however, I wasn't entirely wowed by what I discovered. Cabot's spin on certain aspects of the myth wasn't nearly as engaging, as exciting as the mystery shrouding it for most of the book. I found Pierce's backstory to be so much more compelling to read about than any other aspect of the book!
It didn't help that Pierce was so resistant to John. While I can't say I'm in full obsessive crush-mode over this handsome, moodilicious guy, I definitely wanted Pierce to stop being so... stubborn. If this sexy young man wanted to keep me with him, possibly sleep in his lush canopy bed, you'd get no complaints from me! In this sense, Pierce was reminiscent of
Alera (minus the whining!) toward Steldor
, and that just didn't bode well with me. The romance wasn't the deliciously frustrating kind, where you want to shove the protagonists in each other's faces to get them to
make out already
. Pierce is the girl you want to smack around and say, Oh, honey, what the EFF is wrong with you? Have your eyes disintegrated when I wasn't looking? It got to be very tedious and annoying at times, the Chronicles of John and Pierce's Anticlimactic Love Situation.
Overall, I wasn't floored by
Abandon
, but I am intrigued by it enough to want to read the sequel and see where Cabot twirls the story next. I expect big things from Pierce and even bigger things from her notso great romance...