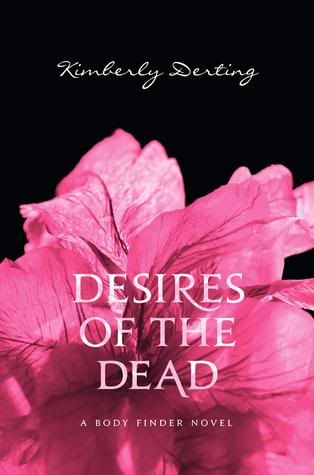 Desires of the Dead (#2)
by Kimberly Derting
Add it to Goodreads?
Purchase at Amazon?
Release Date: February 15, 2011
Publisher: HarperTeen
Age Group: Young Adult
Source: Library Check-Out
Rating: Sud-Kissed
Series: The Body Finder (#1)
About the Book:
Highlight to read:

The missing dead call to Violet. They want to be found.

Violet can sense the echoes of those who've been murdered—and the matching imprint that clings to their killers. Only those closest to her know what she is capable of, but when she discovers the body of a young boy she also draws the attention of the FBI, threatening her entire way of life.

As Violet works to keep her morbid ability a secret, she unwittingly becomes the object of a dangerous obsession. Normally she'd turn to her best friend, Jay, except now that they are officially a couple, the rules of their relationship seem to have changed. And with Jay spending more and more time with his new friend Mike, Violet is left with too much time on her hands as she wonders where things went wrong. But when she fills the void by digging into Mike's tragic family history, she stumbles upon a dark truth that could put everyone in danger.

Violet leaned forward on her hands and knees over the frozen landscape. Inside her boots, her toes felt as if icy shards were burrowing beneath her skin and slithering into her veins...
Desires of the Dead
begins in a way that made me feel as though I'd never left Violet's world. Violet has now aroused the suspicion of mysterious forces working under the FBI, unintentionally setting them on her trail thanks to her, shall we say, knack for tracking the murdered dead, in a moment of desperation. Not quite covering her tracks properly leads to accusations headed by the intriguing Sara Priest, out for answers Violet is unwilling to surrender. Trailing not too far behind the Priest woman is an enigmatic boy around Violet's age who seems to know more about how Violet's gift works than she does!
I
loved
The Body Finder, but I didn't enjoy
Desires of the Dead
quite as much. Maybe because being the object of a psychotic killer proves to be more exciting than the focus of someone else's obsession. And unveiling the identity of The Obsesser wasn't as much of a hardship as with uncovering the truth about book one's serial killer. The suspense sadly didn't serve as much of a motivation to get pumped up with excitement.
A combination of two major aspects resulted in my enjoyment of this book: The first? Jay and Violet, uh
duh
. I swear to Bob, these two are one of my favorite couples in YA. The childhood friend romance has never been done quite this way, has never been written in such an appealing manner. Jay and Violet have this connection that just runs so deep, and a romance that blooms so...
sexily
. Seriously, their romance has the perfect dose of sweet and soft and hot and busy *waggles eyebrows*. And even though they're friends, the two are exploring each other in new ways all the time now that their relationship has evolved. While in book one Violet was less concerned with how quickly they were making the transition, the ramifications of their progression into uncharted territory are expressed here. Violet is trying to balance herself on the thin tightrope between friendship and lovers. What should she tell Jay? What should she keep from him?
Should
she be keeping
anything
from him? All questions which dog her conscience as the book moves forward.
The other big thing about this book is chipping away at the mystery of Sara Priest and that guy, Rafe. Both are evidently not what they appear to be, and much more involved in the paranormal than I would've guessed. I'm all for new characters being placed in the game, so long as none of the other players get tossed aside. That "Spark" of Whatevs that keeps flitting between Rafe and Violet needs to take a hike, because I will not stand for a love triangle! I
refuse
to believe that this is where Derting is taking us, because I just can't imagine a world where Violet and Jay aren't together. (*winces*
Gawd
, that came out so cheesy and melodramatic! When did I become that cheesy peasy romance writer?)
My dilemma with this book is simply that it reads too much like an in-between-a-series book. No, I didn't miss the memo where it says that
Desires of the Dead
is a part of a series. But, I want my sequels to be as devastatingly amazing as I found the book that started it all to be. It should stand on it's own, and it should be just as exciting as the last book! I'm hoping that with
The Last Echo
, the intensity level gets spiked up to unbearable, the romance (WITH JAY) is dazzling, and that not a
smidgen
of disappointment will taint what I'm assuming to be the last book in this wonderful series!
"It used to be that I would never keep secrets from you. You were my best friend. But now that we're dating, it's just... different. I feel like I have to watch what I say, or you get all worried. Sometimes I just want you to be the old Jay again, so I can talk to you." Violet crept behind him, wrapping her arms around his waist and resting her cheek against his back...

She felt him relax, and his voice softened. "Is that what this is all about? You feel like you can't talk to me anymore? We haven't changed; we're still the same people." (189)