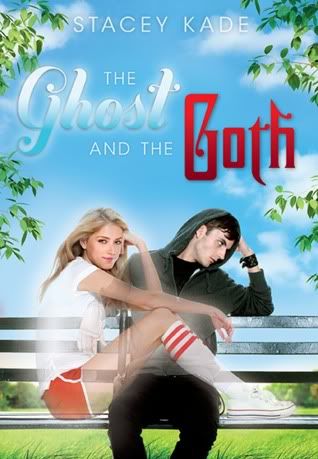 The Ghost
and the
Goth
by
Stacey Kade
Add it to Goodreads?
Purchase at Amazon?
Release Date:
June 29, 2010
Publisher:
Hyperion Books for Children
Age Group:
Young Adult
Source:
Library Check-Out
Rating:
Perfect Bed Partner
About the Book:
Alona Dare–Senior in high school, co-captain of the cheerleading squad, Homecoming Queen three years in a row, voted most likely to marry a movie star… and newly dead...

Will Killian–Senior in high school, outcast, dubbed "Will Kill" by the popular crowd for the unearthly aura around him, voted most likely to rob a bank…and a ghost-talker.
Alona Dare: It was easy enough to sneak out of school. I knew that from previous experience.
I love short books! Seriously, I appreciate a book that's under three hundred pages and still manages to hook me.
The Ghost and the Goth
- told in dual perspectives - takes the cliche - The Queen Bitch, with depth beneath the surface, befriending the loser, who's actually very cute and not a psychopath at all, at school - and revitalizes it, giving each MC a very distinct, likeable voice. And the characters aren't the only surprise! The book itself, while character-driven, delves into issues existing outside of the supernatural problem the two characters have on their hands. There are some heavy issues explored, though with an overarching light tone that manipulates the atmosphere of the book to stay anything but somber or severe. It feels as though it's been a long time since I've had this much FUN reading a book!
As much as I claim to be a nice person, I can't help but snicker at Alona's type. Then the weirdest thing happened - I sympathized with her character! But the most refreshing thing about that is Alona is an unapologetic character who doesn't ask for nor want sympathy or pity, something that gets across loud and clear almost as soon as you spend a few pages with her. Which is why I couldn't help but agree with Will in that he admires her almost as much as he gets irritated with her. Despite her pitiful home life, Alona doesn't sit back and play the victim card, whine, pretend no one else in the world exists to live in isolation. Oh, no, instead she climbs the top of the social ladder at school, snags the boy everyone is pining for, and is ruthlessly blunt to anyone who doesn't try as hard as she does at life. Alona is a mean girl, no doubt, but her outlook goes something like everyone has control over their own lives, so those girls and guys at school who no one accepts and likes aren't trying nearly as hard as they're capable. To her, excuses don't exist. And you have to admire someone who isn't afraid to take what she wants without checking for vulnerable shoes susceptible to being stepped on.
I didn't like Will nearly as much as Alona, I will confess, mostly because he just doesn't have Alona's drive or her brand of meanness. (
I find mean girls terribly appealing
, if you haven't already figured out.) But what makes Will attractive - despite the fact that he's really cute! - is his unshakeable loyalty and protectiveness of those he loves. And even though he has family issues and a heartbreaking past roughing up his home life and zero tolerance or sympathy from his school principal making his schooltime horrible, he stands on his own two feet and remains self-reliant. He may not be as goal-oriented as Alona Dare but he's no wimp either! And best of all, he doesn't become compliant under Alona's tactics to boss him around or her demands.
Now what do you do when you have two headstrong characters meant to fall in love? You grab a bag of popcorn, some soda, and pick a better seat! The romance here progresses gradually but does NOT border on nonexistent or subtle. The chemistry and tension is there, a reluctant sparking that crackles into oh-so-delicious moments. And as the two learn more about each other, seeing all facets of the other's personality, those feelings escalate into something you know is going to be explored
thoroughly
in later books.
While the paranormal element is more of a sub-plot, I didn't mind. I enjoyed that touch of the supernatural even as I dived deeper into the characters. The paranormal aspects only made the book more intriguing, without overshadowing the characters, and drove the book forward at a pretty steady rate. The mystery and conclusion wasn't top-marks perfect but it did its job and served as a great incentive (besides the romance!) to continuing reading the series. Because by the time you're done you have just as many questions as the characters do!
Queen of the Dead
, here I come!

Will: She rolled her eyes. "Please. I meant it metaphorically. Besides, how are YOU going to kiss ME?"
Stung, I stiffened my shoulders. "I've never had any complaints. I'm a good---"
She kept talking like I hadn't said anything at all. "You'd look like a loon. Your head all tilted, tongue sticking out." She threw her hands up in the air, like she was holding on to someone's neck, closed her eyes, tilted her head dramatically, and waggled her tongue around outside her mouth. (157)