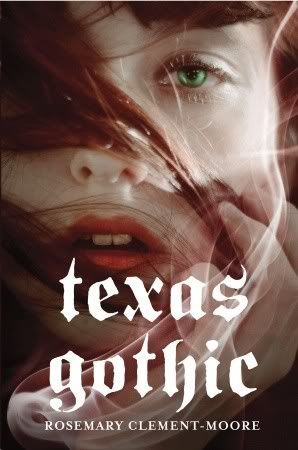 Texas Gothic
by
Rosemary Clement-Moore
Add it to Goodreads?
Purchase at Amazon?
Release Date:
July 12, 2011
Publisher:
Random House
Age Group:
Young Adult
Source:
Library Check-Out
Rating:
Sud-Kissed
About the Book:
Amy Goodnight's family is far from normal. She comes from a line of witches, but tries her best to stay far outside the family business. Her summer gig? Ranch-sitting for her aunt with her wacky but beautiful sister. Only the Goodnight Ranch is even less normal than it normally is. Bodies are being discovered, a ghost is on the prowl, and everywhere she turns, the hot neighbor cowboy is in her face
The goat was in the tree again...
I have a big crush on witchy books. I just love the idea of magic in a cauldron, spells from nature, and useless or inconsequential charms in a bottle. The idea that regular humans can possibly tap into otherwordly forces. Maybe that's why I was a little disappointed that Amy Goodnight wanted to play Protector of the Family from Outside Forces who wouldn't understand about magic, and was totally desperate to assimilate to non-witchy society. I wanted spells galore, magic at its finest run amok, and I didn't get that, didn't get what I was expecting so that's why I couldn't LOVE this book like I wanted to.
Although it wasn't what I was looking for at the moment,
Texas Gothic
did continually surprise me. The Goodnights are just so charmingly quirky, much like the entire book, that I couldn't help but like their characters. And Clement-Moore did a wonderful job giving a certain liveliness to all of the characters. Each had their own voice, their own personalities that were tangible even if they weren't the narrator like Amy. Amy herself falls under one of my favorite types of heroines - a
Snarky Spirit
. Her quick wit and her dismay at her family's lack of subtlety for magic in the presence of nonbelievers were a hilarious and endearing combination, if a little annoying at times. Pair her up with a sexy cranky cowboy (
Tucker
, I miss you!) who can use words like whips just as well, even as he's herding your goats for you, and you've got a devastatingly sexual tension-filled romance that progresses ever slowly, followed by a steamy explosion of Hot and Busyness in the... Well, *waggles eyebrows* we don't want that to get out now, do we?
The snarky prose and cast aside, my main reason for being glued to the pages of this large-sized novel in the span of a day was Amy and her sister's quest to cleanse the Goodnight name. Accused of being the reason for so many mishaps in the town, both supernatural-inspired and mysterious attacks on the site that may be derived from a notso supernatural, but just as sinister, culprit, the Goodnights feel the unbending urge to clear their family name and get the town off their backs. Well, Amy, in particular, whereas Phin is more interested in monitoring the paranormal activity taking place. The mystery didn't make my hands go white at the knuckles, but it was enough of an incentive to keep reading and figure out Who Done It.
Overall, the characters combined with the fast-paced mystery of the eerie poltergeist plaguing the town proved to be a very entertaining (expect a lot of laughs and surprises!), very hot (Ben equals yum!), and very engaging (the history plus the paranormal were truly amazingly written) read. If Clement-Moore decides to write anything else (have word of anything?), then I will surely read whatever it is so long as her witty writing style remains intact.