Life is good, friends. Let me just begin by saying, I'VE NEVER ATTENDED A BOOK SIGNING before the New York City Teen Author Festival, or, more fondly termed, NYCTAF. It was absolutely my first time attending something like this and yes, you can expect that I acted like a total noobish walking spazz-attack incapable of normal speech and also in possession of very little dignity. You would have *face-palmed* if you could have seen me. When I think back to all my babbling and general incoherence, it should be mortifying. I should be humiliated. But, as a few fellow bloggers pointed out: This was my very first signing, my first experience with something like this, and, frankly, I'm damn well entitled to make a fool of myself until I've attended a few more and gotten the gist of how these things work. And, of course, in typical Asher fashion I choose one of the most OVERWHELMING ONES TO ATTEND as my first go at it. Try picturing the energy, the tension, AND TOTAL LACK OF ROOM TO BREATHE going on here in the midst of about forty or fifty authors in attendance, switching out in, like, thirty or forty minute-intervals, and the herd of fans who've come from every which way to meet and greet them. YEAH. 'Crazy' is an understatement.

However, I don't deny that I had the best time of my young life. But, first, let me backtrack. Let me take you back to the moment that decided my little escapade to Books of Wonder was going to happen, and why I would've stomped, cried, pleaded, puppy dog eyes and all, until one of my parents gave in to either cease the irritation I would've undoubtedly caused or because they're both big saps and wanted to make me happy.

So one Sunday night, I'm just cruising around, being an average person, doing average person things, when, suddenly, I notice this:
You may have deduced that this screencap was taken from STEPHANIE PERKINS' blog. So, of course, my reaction was:
From that point on, I KNEW I had to attend this signing. I couldn't attend the Carnival in Chicago and I couldn't go to BEA, but damned if I didn't show up to this one when Fate had generously set this location 30 minutes away from my home. It was at that point that I began to believe that the home I was destined to live in was not a result of a geographical accident. I was BORN to live here, for the purpose of this single event that would be one of the brightest highlights in my hopefully long life.

CUE THE MISSION IMPOSSIBLE THEME SONG. Because what ensued was a series of carefully thought-out steps, which called for me being all stealthy and near-invisible to the naked eye, to persuade my mom that she HAD to be my ride... and also come with and meet authors too. If she wanted. Whatever. I stalked her at every possible moment, watching her watch tv, watching her type on her laptop, watching her text someone, watching her watch me watching her, UNTIL, AT LAST, I found the perfect moment to spring my idea on her. And, after an entire week of planting seeds and several exhibitions of my mad manipulative skillz, SHE SAID NO. Worse, she delivers me this detestable answer THE DAY BEFORE THE SIGNING.

What was I supposed to do now? I could feel the panic creeping on me, draining my thoughts of joy and coherence. My heart was in my stomach, thumping uncomfortably against my intestines and stomachy thingys, and my face was akin to what it would like if I ever saw a dead rat (which may have happened, but I think I blocked out the memory it was so traumatic). Fortunately, though, it all worked out because my AWESOME dad sprung for the trip.

My sisters decided to join me on Operation Stalk Stephanie Perkins Throughout The Entire Store. With one sister armed with my SUPER COOL OH-MY-GOSH-IT'S-PINK camera, totally jazzed about meeting Stephanie (my sibling not the camera, although if it could speak it's probably ecstatic to have pics of SP inside), among other authors (like JEN E. SMITH), one sister was battling a spontaneous illness I like to call, Oh God, I Can't Believe I'm Willingly Going To A Place Where Book Lovers Congregate, Surrounded By Books, And, A Side Note, I'm Going To Hurl Soon If Someone Doesn't Take Me Back To The Video Games Or Relatively Normal Folk, or OGICBIWGTAPWBLCSBBAASNIGTHSISDTMBTTVGORNF for short, and my eagerific dad, who was so happy to be a part of making MY DREAM come true, and my team of cohorts were assembled.

We arrived just in time, with five minutes to spare, and in those five minutes I felt like my world was zeroed in to that one moment in which Stephanie Perkins would be signing my books and talking to me. This was me as we moved up the line, pulling a St. Clair ya'll: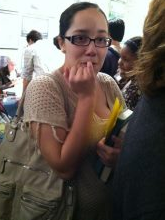 OH, MY GOD. I CAN'T BELIEVE I'M GOING TO MEET THE WOMAN WHO CHANGED MY LIFE WITH HER STORIES. DO I STINK? WHY AM I SWEATING? OMG, SHE'S GOING TO ASK TO SHAKE MY HAND, AND IT'S GOING TO BE SLIPPERY, AND THEN I WILL DIE OF SHAME. DO I NEED GUM? WHAT IF MY BREATH STINKS? I HOPE I DON'T HIT HER SHOULDER WITH ONE OF MY BUNS (IN MY HAIR).

The single most equal parts exciting and terrifying moment of my life. I swear. But the actual happening, now that was recorded on video:




You can all mentally thank my video gamer sister for her steady hand and intuition, BECAUSE SHE TOTALLY RECORDED THAT WITHOUT TELLING ME. And yet, I will be grateful to her for the rest of my life for capturing my first time meeting Stephanie. Again, I should be embarrassed, but all I can do is grin. HUGELY. One of the best parts of our conversation was when we she first saw me and heard my name: she pointed at me and said I KNOW YOU. I nearly fainted. Twitter is the shizz, yo, just sayin'.


After my brain fart with Stephanie, guess who happens to show up in my line of vision? Jamie at The Perpetual Page-Turner and Erica at The Book Cellar. After just having met my idol, I, in no way, was in any shape to talk to two of my book blogging idols ON THE SAME DAY. Impossible. So I did what any self-respecting average person would do - I stalked them, discreetly, with my eyes. When I happened to mention that I recognized them, my family practically shoved me in their direction to instigate conversation and all my thoughts turned to mush. My mouth was too full of nerves to actually manage speaking. THEN, there was this second where Jamie crossed right in front of me and I did the unthinkable. I OPENED MY MOUTH AND PREPARED TO SAY SOMETHING. Something preferably witty or clever, but what actually came out was, "Are you Jamie?" Three words, that's it.

I imagine Jamie has received more eloquent greetings, but she, like Stephanie, took my fangirliness in stride and was the picture of friendliness and kindness. I think I babbled something about not being able to talk, because I couldn't believe I was meeting her and Stephanie ON THE SAME DAY. Like I said, she was totally cool about it, and, eventually, I began to relax and string my words in a more intelligible manner. At some point I mentioned seeing Erica, and Jamie, completely nonchalant, says something like, Yeah. Want to go meet her? I THINK I nodded. Inside, I was all, IS SHE CRAZY? What is she doing? No! Don't nudge me over to her! I'm not equipped for this. Then, in a blink, Jamie and I are both in front of Erica, me suffering introductions, Jamie all chill and wonderful unlike crazy, nervous me. But it all worked out, even with my inability to speak for more than a few sentences.


It would seem that I have a very sharp eye, because directly after my meeting two of the coolest bloggers ever, I encounter Sasha at Sash & Em. By that point, my nervousness toned down. While Jamie and Sasha struck up a conversation, my sister distracted me with some question in which I ended up answering Victoria Schwab, author of The Near Witch. The second the name was mentioned, a woman in front of me turns and says, "Who said my name?" At that point, I was struck dumb. I very hesitantly, stuttering all the while, told her, "M-Me." Before I knew it, I found myself having a casual conversation with Victoria Schwab, like it was an every day occurrence. What luck!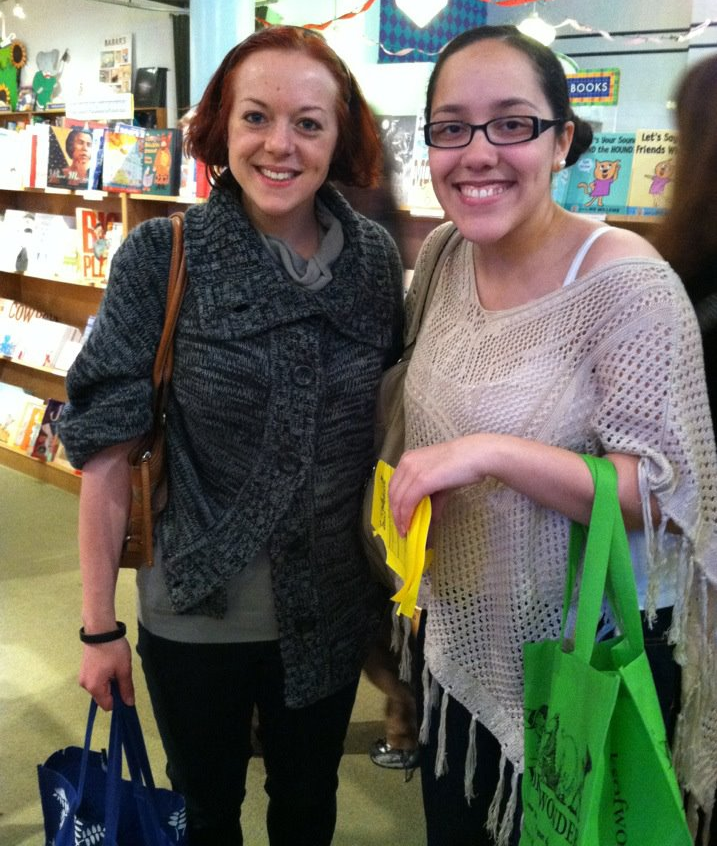 From there, the awesomeness continued because I met Kody Keplinger, author of The Duff and Shut Out, and we had a cool little chit-chat. A few authors away from her was Melissa Jensen, author of The Fine Art of Truth or Dare. I also stopped to see Jess Rothenberg, author of The Catastrophic History of You and Me (one of my all-time favorite books, just FYI), and she was one of the people who made my day, as her first reaction to my name was, Oh, my God. It's so great to finally meet you! I'm so happy you're here! And she wanted to take a picture with me. I think I walked away from her table grinning like a fool.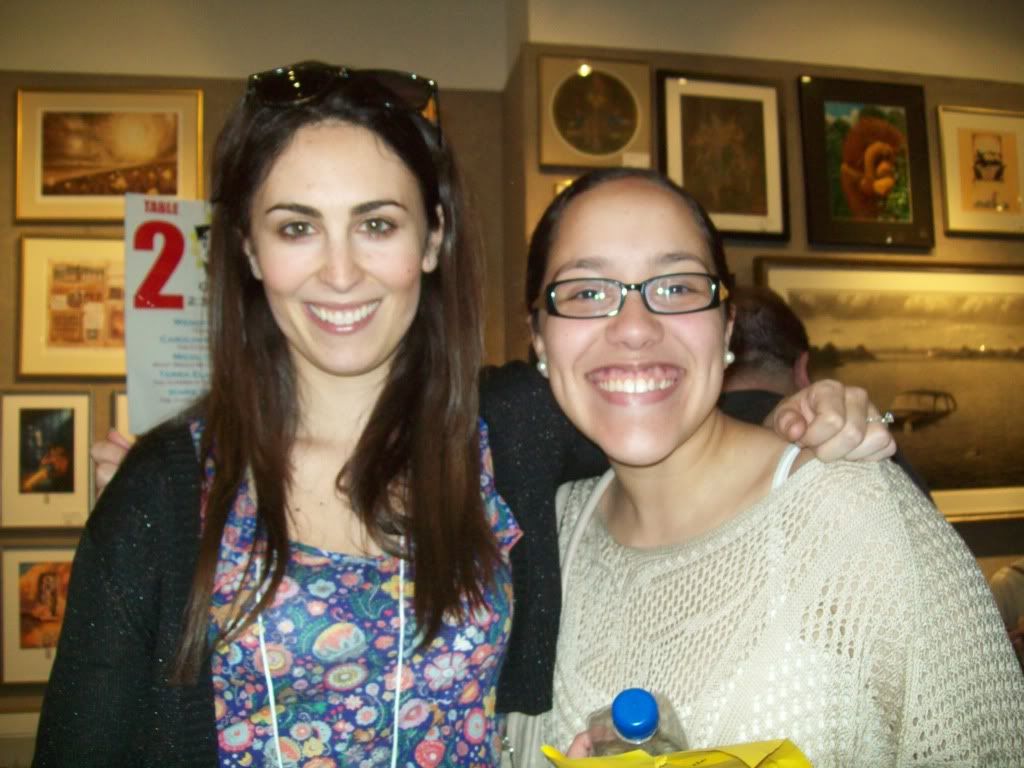 YEESH, I'M ALL GUMMY. WHERE DID MY TEETH GO? XD


The final portion of the signing, I got to stop by Victoria Schwab's table to get my brand new copy of her book signed, and Sarah Beth Durst (author of Drink, Slay, Love) happened to be standing there so I politely asked her to sign a bookmark of mine that features one of her books. Inside, though, I was tap dancing. And I don't tap dance. Even internally. The very last author I got to meet was Jeri Smith-Ready. FUN FACT: She totally dyed her hair blond. I kept staring at her author pic trying to pick out a brunette, when I realized the change. She was very generous in offering me extra signed bookmarks for the blog so that was VERY COOL. I can't wait to read Shift (#2)!

I stopped in to see Jennifer E. Smith, author of The Statistical Probability of Love at First Sight, and got my copy signed. My sister, Jen, and myself also got to chat a little about the awesomeness of Oliver before we moved on. Jennifer was so sweet about everything!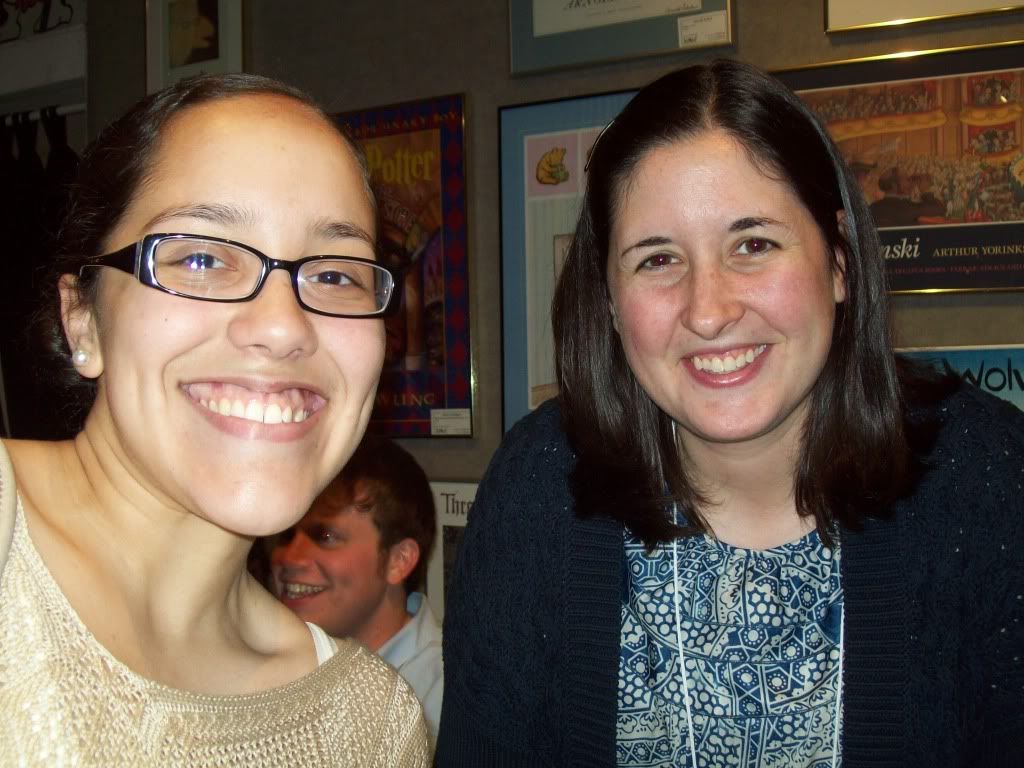 Other highlights:
meeting Charlee Vale, who not only helped me relax with some breathing techniques but helped me catch Stephanie Perkins before she left
receiving a hug from Stephanie Perkins when I asked for a handshake
hugging Jamie on my way out, even though I'm 75% positive I might've clipped her in the shoulder with my chin (SORRY!), but it's okay because it was awesome and so was she
finally buying a copy of Unearthly by Cynthia Hand (*heart* this series!)
Watch my In My Mailbox later to see all the signed books I bought up close! And thanks for reading!