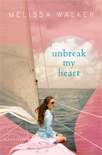 my thoughts in a few sentences: Sure, Unbreak My Heart by Melissa Walker is a great addition to our summer reading lists, as it's all about boating and family, romance, but it's got so much more going on. This is about harsh consequences for a difficult topic, something we all sneer at and scorn, and about forgiveness, unconditional love, and moving forward no matter how hard. Unbreak My Heart by Melissa Walker never forgets the minor details, and explores the depth of familial relationships and acceptance of pasts that can't ever change. I teared up, chuckled, swooned, and basically just gave up on looking cool and settled for hugging my kindle to me. Unbreak My Heart by Melissa Walker is so sweet and sad, and it makes a statement.
hooking first line:

"

'Sit on it,' I say.

"
Bloomsbury/Walker • NetGalley • Contemporary Romance • 5/22/12 •
$12.98
---
Unbreak My Heart
by
Melissa Walker
Sophomore year broke Clementine Williams' heart. She fell for her best friend's boyfriend and long story short: he's excused, but Clem is vilified and she heads into summer with zero social life.

Enter her parents' plan to spend the summer on their sailboat. Normally the idea of being stuck on a tiny boat with her parents and little sister would make Clem break out in hives, but floating away sounds pretty good right now.

Then she meets James at one of their first stops along the river. He and his dad are sailing for the summer and he's just the distraction Clem needs. Can he break down Clem's walls and heal her broken heart?

Told in alternating chapters that chronicle the year that broke Clem's heart and the summer that healed it, Unbreak My Heart is a wonderful dual love story that fans of Sarah Dessen, Deb Caletti, and Susane Colasanti will flock to.
I know a ton of people have been mentioning that this a book about cheating. And it is, but that's not so much what I concentrated on. I was saddened by Clementine's anguish over her past mistakes.
Unbreak My Heart by Melissa Walker
flips the coin and shows us what it's like when you break the rules and become the one who cheats, and, more than that, spotlights the isolation, the immediate disapproval, and the lack of consequences on the boy who helped break up the friendship, the love right along with her.
I'm not sure I want to read a book that deals with cheating
I know you're thinking it. We all thought it when we picked up this book. But,
Unbreak My Heart by Melissa Walker
isn't what you would expect. Walker doesn't paint Clem as unrepentant and intentionally negligent of her friend's feelings. The whole incident makes Clem sick inside, and she's so ashamed she's shouldered ALL the blame. Which is totally not right considering it takes to two to boogie and shizz. She's lost not just her best friend, but also her band of comrades, the butthole boy, and everyone at her school is torn between outright disapproval and dissing the boy and her best friend. None of which makes her feel good, OBVS.
This story could've been so typical. Walker could've wrote about it happening and the girl's guilt but how it feels so right and all that. Instead she wrote about the Other Girl, the one that did the Thing We Can't Stand, and her emotional recovery.
Unbreak My Heart by Melissa Walker
tells the story of the girl who fell in love for the first time with her best friend's boyfriend, lied about it, breached boundary lines, and berates herself for it every day, inflicts injury and insult all by herself because there's nobody more ashamed than she is. Walker shows us that not all cheaters are evil, heartless bishes or buttholes but real people who screw up HARD and can do nothing but move forward despite their mistakes. Because nobody has to live with what was done more than them, and suffer for it as deeply.
Clem and James
THESE. TWO. There's something so real and honest and sweet in what Clem and James begin over their summer away from home, living on a boat. Clem is happy to be away from her home but now she's trapped with her guilt. And James, all smiles James, has got his fair share of heart bruises as well. That alone makes them relatable. We all have our pitfalls and downright lows and they both come through the hurts of the past and recover. All the way, and together.
James is in subtle pursuit of Clem, and she's not having it. She's a cheater, a destroyer of worlds and angsty teen relationships. She's a monster, and she shouldn't be happy, especially with another boy. One who's cute and cheerful and thoughtful. One who notices her sad eyes and the shape of her mouth at the same time. One who smacks into her with a cart full of bananas on first sight. They hang out, they laugh, they share, and it turns into something balanced by fluff and soberness, and is tempered by kindness and understanding.
Is this an issues book?
There are tons of issues going on here. Betrayal, divorce, loss, guilt, and so much more.
Unbreak My Heart by Melissa Walker
, however, isn't about enduring or experiencing them; the story is about letting it all go, forgiving, and moving on as best as possible. Wallowing in guilt or anger or self-loathing for a while, and then recovering from the gamut of emotions that play when reality hits like a brick, and a solid and patient support system to help speed up said recovery.
This packs a punch for a lightweight
Only about two hundred something pages,
Unbreak My Heart by Melissa Walker
is impactful without really trying to be and in so short a time. It shares a truth we didn't acknowledge before—the betrayer isn't always selfish and intentionally cruel—and gives us so much more about emotions, tough pasts, and people as a whole. There's comedy, intervention, secrets, sailing, and electric kisses to make up this insightful, hopeful summer read.
Rating:
Sud-Kissed