Some of you may be like, "YAY, she's doing this." Others might be like, "No this bish is not."
But I AM. I totally am about to do this. In fact, I've
technically
already done it...
WORK IT, GIRL.
If you're already lost and clueless as to what the heck is going on, let me fill you in. Do you remember that awesome show THAT TOOK THE WORLD BY STORM (did it, really? I DON'T ACTUALLY KNOW) called Avatar: The Last Airbender. You remember. Come on, YOU SO DO.
Well... THIS IS NOT THAT. Let me explain: The Legend of Korra takes place seventy years AFTER the events of The Last Airbender. Korra, the protagonist, is the latest incarnation of the Avatar
--"the physical embodiment of the world's spirit" capable of mastering all four elements--earth, fire, water, air--in the art known as bending--and is responsible for bringing order, peace, and balance to the world--
and this show is about her quest to her spiritual self, her airbending, and the fight against the anti-bending revolutionaries. AWESOMESAUCE, am I right?
Do you NEED to watch The Last Airbender to watch Korra? NO. That's what makes better for newcomers. HOWEVER. I will say that to fully appreciate certain cameos and character arrivals YOU SHOULD watch The Last Airbender. There's a lot of *fist-pumping* and *smiling* involved when you see people you recognize or witness moments with the old gang.
So back to Korra. If you don't already know, the season finale for THIS BANGIN' SHOW just happened this past Saturday and YO. Ya'll donnevn wish you'd seen my reaction because
HOOOOOOOOOLLLLLLAAA. BAAAAAAAAACK.
all of that? Was ME. BEFORE I dropped into a comatose state followed by EXTREME sleep after expending all that energy to share my excitement with my now very angry, unrelenting neighbors. My love of this show had just gotten serious; it wasn't f*ckng around.
Now, I'm not going to recap what happened. You want all that? WELL I KNOW SOMEBODY EXCELLENT FOR THE JOB. CHECK IT:
I'm just going to talk about the moments of epicness, the ones that turned my heart to GOO, that ripped it in half, that rubbed it with balm, and so on. So BRACE YOURSELF.
First, there was this:
WHY DON'T YOU JUST FIREBEND MY HEART, MAKO?
"Defeat him. Put an end to this sad story." ~ Tarlock to Korra and Mako
My heart was in smithereens by this point. And then Tarlock goes and SAYS THAT. Being bros with the villain is badenov but then said bro goes and says PUT AN END TO THIS SAD STORY.
KORRA LOSES HER MOTHER FRYING BENDING. I can't EVEN. I was also like Nuh-Uh. Then I was cursing out the fraking commercials until THEY GAVE ME BACK KORRA TIME.
I CAN AIRBEND BISHES, SO TRY AND STOP ME NOW.
I was chockfull of NONSTOP applause, cheers, whoops, FIST-PUMPS. All I needed was a FANGIRL T-SHIRT THAT SAID, EFF YEAH, LEGEND OF KORRA IS
THE BUSINESS
.
When Bumi showed up, I *DIED*. I was laughing, cheesing, cheering. HE'S SO MUCH LIKE THE OLD ONE.
"It will be just like the good old days." ~Tarlock to Amon
YOU GUYS. I was SO NOT fine. I couldn't handle that tear.
THEN TO TAKE THE CAKE:
I
could see it. Because it was UNBELIEVABLE.
BUT WAIT. The awesome epicness HAS NOT STOPPED.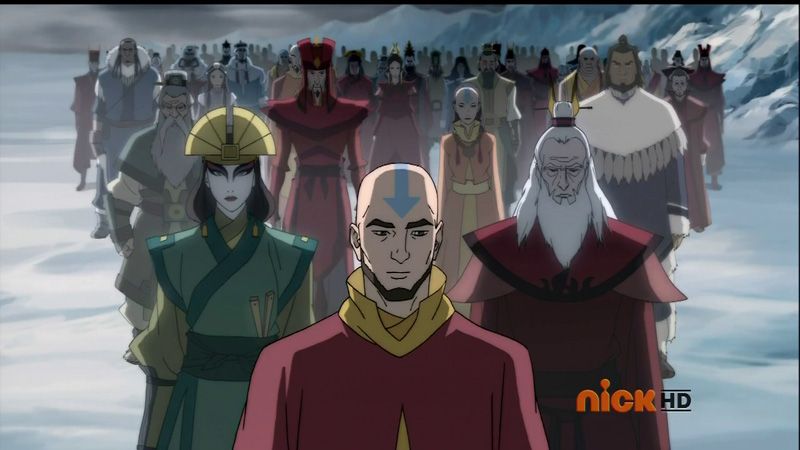 "You have finally connected with your spiritual self." ~Aang to Korra
"When we hit our lowest point, we are open to the greatest change." ~Aang to Korra
SHE IS THE AVATAR. YOU JUST GOTTA DEAL WITH IT.
WHEN SHE WENT ALL AVATAR STATE. There are no words. ONLY DANCE.
She looked like a frigging goddess. I BOW DOWN TO KORRA.
And then to just cap things in THE MOST GLORIOUS, HEARTMETLING WAY POSSIBLE:
*HEART MELTS* *SWOONS*
"I love you too." ~Korra to Mako

DO WE SERIOUSLY NEED TO GET INTO HOW I,
I
, REACTED TO THIS?
Let's not forget about Beifong, though.
YEAH, I'M GONNA NEED MY BENDING BACK. CUZ I'M A BOSS.
To say that I LOVED The Legend of Korra's season finale is putting it VERY mildly. I have, NO LIES, watched the ending of the episode--and I swear I've counted, accurately--34 times since Saturday. Yeah. YEAH. And that was after I spent my Monday morning with a Legend of Korra rerun marathon. If you haven't watched the show, PLEASE DO.