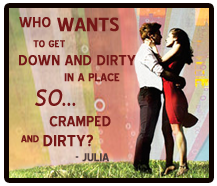 Title:
Meant to Be by Lauren Morrill
Author Info:
Bio
|
Website
|
Twitter
Publication:
Nov 13th 2012 by Random House
"
There are certain things in life that just suck...
Story Arc: Standalone
Paperback: 256 pages
Age Group: MG, Teen, YA
Genre: Contemp. Romance
Excerpt(s): pg 12%
-------- Purchase --------
..............................................................................
Meant to be or not meant to be . . . that is the question.

It's one thing to fall head over heels into a puddle of hazelnut coffee, and quite another to fall for the—gasp—wrong guy. Straight-A junior Julia may be accident prone, but she's queen of following rules and being prepared. That's why she keeps a pencil sharpener in her purse and a pocket Shakespeare in her, well, pocket. And that's also why she's chosen Mark Bixford, her childhood crush, as her MTB ("meant to be").

But this spring break, Julia's rules are about to get defenestrated (SAT word: to be thrown from a window) when she's partnered with her personal nemesis, class-clown Jason, on a school trip to London. After one wild party, Julia starts receiving romantic texts . . . from an unknown number! Jason promises to help discover the identity of her mysterious new suitor if she agrees to break a few rules along the way. And thus begins a wild goose chase through London, leading Julia closer and closer to the biggest surprise of all: true love.

Because sometimes the things you least expect are the most meant to be.
Review:
Meant to Be by Lauren Morrill
has been made to be one of those books that, by this point, you just know about. It hasn't attracted a copious amount of fanfare like some anticipated hits of this season, but it certainly has been garnering it's fair share of attention. I call BOLLOCKS if you don't feel even the tiniest bit interested, because even if you're like me, a hype "avoider," there's still that insistent little voice that wonders. But then, I suppose I'm also quite weak-willed, so that doesn't help my cause either. Unfortunately, while I'm inclined to understand why people are all about this book, and I did half-enjoy it, I didn't buy into the weak world-building, disengaging plot, and the something-off-about-it romance.
Lauren Morrill's point is quite evident—there is and there isn't such a thing as meant to be. It's possible to be fortunate enough to have one great love, but no one should limit themselves to only one possibility of finding love. The childish fantasy of waiting for one's true love blinds the dreamer to the discovery of something more genuine and tangible. It's a hearty, even wise theme to base your book around, and I enjoyed that it acted as main character Julia's sticking point. Morrill portrays this lingering unhappiness if unbending in this area, very much like Julia is. Though, Morrill simultaneously writes a very sympathetic character in Julia, as she auto-clutches the Meant To Be (MTB) belief like an uncertain child reaching for some innocent shield in the face of misery and loss in order to cope. Her stiff, frustratingly stubborn beliefs and methods are a byproduct of that loss, and her learning to live outside of that pain, and growing to learn more about relationships, people's feelings, as well as all that within herself is the major likable aspect of the story and negates a lot of the negatives I couldn't help but let distract me.
I feel as if because Morrill was so adamant to teach her character a lesson—that love isn't perfect and the person you fall in love with even less so—she often overemphasized the flaws of the love interest, Jason, and didn't capture his good side enough. It's hard to swoon over a guy who exasperates and annoys more than he doesn't,
and
doesn't always attractively go about his usual business. Morrill's efforts to portray an imperfect love interest are commendable, but it just added a strain on my willingness to fall into the romance that stayed in the back of my head, preventing me from really digging Jason's subtle efforts. That's not to say I'm a total
hard ass
loss and held myself away from melting at any sweet gestures and warm dialogue, and oh, yeah, THE SEXY IN THE RAIN. I did get a pleasant buzz in each adorable scene, but overall their relationship still carried this
meh
air with it.
And you don't want that in the romance book you're reading. Especially when you don't have fun or vivid descriptions of the London scenery around you to drift away to, or some other character presences to rein in your focus. Sad to say, there are no well-written side characters, with occasional glimpses of the "cool" bff back home who may actually have a secret power: invisibility. However, I do feel compelled to mention a redeeming element to
Meant to Be by Lauren Morrill
. The humor. It's possible that Morrill just has killer sensory memory and can remember boatloads of all those awkward, tingly, or depressing moments, the range of tidal emotions, experienced not only at Julia's age, but in her specific situation, which really reinforced the book's genuineness. I appreciated those candid excerpts depicting those uncomfortable firsts.
I honest to Bob wish
Meant to Be by Lauren Morrill
did more for me. As a hardcore romance dweller, I wasn't impressed and that was the ultimate downer. Even so, I give Morrill her props for creating an enjoyable read, and I might be inspired enough to investigate more of her future books. She does feel-good stories well enough.
Most Likely to Be Enjoyed By
: Contemporary romance fans that are more about the romance than the issues that typically pile in with the rest will have fun with this book. It has a sweet, though sometimes unexciting romance and can be labeled with Issues Lite.
Content Warning:
There are small doses of profanity and light kissing. Morrill didn't use a heavy hand when layering the issues, incorporating problems with abandonment and loss.
Blog Rating:
Guilty Pleasure

We've all read our fair share of Guilty Pleasure books. You know the ones, the books that you somehow like despite the fact that it's got some undermining qualities (i.e. slow-paced plot, instaluv, inaccessible characters aka No Spark Characters, etc.). For some reason they remain incredibly addictive.
Goodreads Rating:
3 out of 5 stars
Favorite Quotes/Scenes:
"Hey!" I shout, and shove Jason backward. He pitches back onto the bed but grabs hold of the front of my robe. Before this can turn into a major wardrobe malfunction, I twist away from him, clenching the robe closed, but manage to get my feet tangled in the hem and falls down toward the floor. Instinctively, I reach out to break my fall. Without my hands holding it shut, my robe flies open and billows out behind me. With my back to him, Jason can't have seen a thing, but my terrified scream pretty much serves as a high alert. He sits up in time to see me crash to the ground in a naked tangle of arms, legs, and terry cloth. As soon as I can discern my bare butt from my elbow, I pull myself into the fetal position and yank the robe over my head like a blanket.
It feels like an eternity before Jason stops laughing. He finally slows enough to choke out, "Are you going stay huddled under that robe all night?"
"Go away!" I yell through the fabric.
"I'm sorry, I couldn't hear you under there," he says, still chuckling. "Why don't I turn around, and you can crawl out from under there? Then we can discuss this party situation further."
"How do I know you're not going to turn around?"
"Well, you could trust me."
"Yeah right," I mumble.
"Or you could stay under there all night long," he replies. I think about that prospect for a moment, but the wood floor is not comfortable on my knees. Thinking quickly, I decide to feel my way around to the other side of the bed, where I'll be able to slightly shield myself from Jason's view I army crawl across the floor, trying to keep the robe draped over me. Underneath yards of white terry cloth, I must look like some kind of turtle ghost.
| | |
| --- | --- |
| OTHER REVIEWS: | MIGHT BE INTERESTED IN: |
..............................................................................
Got something specific in mind? Dare I believe I might NOT have covered something you wish to know? If so, let me know down in the comments section. Also, what is your favorite feel-good romance story atm?