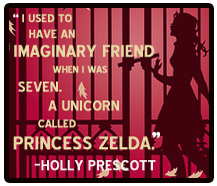 Title:
Unspoken by Sarah Rees Brennan
Author Info:
Bio
|
Website
|
Twitter
US Publication:
Sept 11th 2012 by Random House
"
Every town in England has a story...
Story Arc: Series, Book 1
Hardcover: 370 pages
Age Group: Teen, YA
Genre: Gothic Mystery
Excerpt(s): 30,33,& 38%
-------- Purchase --------
..............................................................................
Kami Glass loves someone she's never met . . . a boy she's talked to in her head ever since she was born. She wasn't silent about her imaginary friend during her childhood, and is thus a bit of an outsider in her sleepy English town of Sorry-in-the-Vale. Still, Kami hasn't suffered too much from not fitting in. She has a best friend, runs the school newspaper, and is only occasionally caught talking to herself. Her life is in order, just the way she likes it, despite the voice in her head.

But all that changes when the Lynburns return.

The Lynburn family has owned the spectacular and sinister manor that overlooks Sorry-in-the-Vale for centuries. The mysterious twin sisters who abandoned their ancestral home a generation ago are back, along with their teenage sons, Jared and Ash, one of whom is eerily familiar to Kami. Kami is not one to shy away from the unknown—in fact, she's determined to find answers for all the questions Sorry-in-the-Vale is suddenly posing. Who is responsible for the bloody deeds in the depths of the woods? What is her own mother hiding? And now that her imaginary friend has become a real boy, does she still love him? Does she hate him? Can she trust him?
Review:
Let's see, I don't think it's a good idea to start a review with I WANT TO MURDER THE WORLD. There's already undue suspicion cast onto my sanity reserves, so I'm willing to portray a reasonably rational presence even though all I can think about is drop kicking anyone who won't do it back. I'm THAT angry. Brennan is a devious one, I'll give her that. So devious and manipulative, in fact, that I'm sure once she comes across this review, she will be chuckling in delight behind her computer screen. And that does NOT keep me calm. I am a ball of anger; I want to commit hideous violence and not stop. That is the kind of stunning power Brennan has evoked over my person. A tragic though—insert growling here—grudgingly wonderful sign.
The "pebble" crashed through both glass and curtain. There was the creak of an old sash window being thrust open, and Jared's head and shoulders appeared at the window. "Hark," he said, his tone very dry. "What stone through yonder window breaks?" Kami yelled up at him, "It is the east, and Juliet is a jerk!"
Imaginings of swiping my claws across a line of people aside, when a relationship like Kami and Jared's is written down for crazed readers like me to enjoy, the expectation is that those readers and I will have feelings split between rabid fury and utter adoration. It goes with the territory. And a part of me—the sick, masochistic lion part—LOVED that I was able to feel
so much
for and toward these characters Brennan has written. Amusement bled into emotions and those emotions stirred fascination and sympathy, because the gamut of emotions felt by these two characters is felt more deeply and vividly than any normal person
could
feel. Because Jared and Kami's relationship
isn't
normal. The two are so much a part of each other it goes beyond a mere romance or friendship; it's to the point they can't even recognize themselves separately within the bond. Any romantic display—which everyone with pants on secretly hopes for while reading—could more than
just
potentially damage a long-time relationship, it could shatter a whole half that is impossible to be unaware of and control. It's torturous and comforting all at once, and so incredibly complicated.
"I do not trust that guy. He looks at her as if she was his heart, made of glass, and suspended on a thread that might break. If the thread breaks, I don't know what he'll do."
If you can't imagine it, excellent. That's what Brennan's there for. In this situation she's created, it's so easy to want a strong, brave, intrepid main character, but to execute one well? That takes skill that I'm happy to say is quite prevalent throughout the story, whether it be in the constant, intrinsic humor, the disarmingly hilarious wit of the characters or be it the intriguing murder mystery complete with supernatural overtones, it's all there in a book. And that makes me ridiculously excited, because SOMEONE has finally written this all in in
Unspoken by Sarah Rees Brennan
. Now, as to the Just End Your Life Because There's A Fu
cking
Wait ending, don't bother trying to escape it. This book is too good, and therefore you will have to submit to reading those final few agonizing pages in the long run. And I absolutely DO NOT
suggest you read this
directly after the staggering blow of the ending. It won't be healthy, and you'll want to murder people and small helpless animals. Although, I'm always recruiting, and we could take a hike to Sarah's place when she's least expecting it…
My God, my heart. Only so few have managed this feeling. Brennan, I give you claps even as I wave The Finger at you in indignation. Make me my sequel now, lady.
Most Likely to Be Enjoyed By
: Anyone with a curiosity that could nearly get them killed. Because that's some of what
Unspoken by Sarah Rees Brennan
is about, a girl seeking answers despite the formidable danger. And anyone who secretly loves when fictional characters rip your heart into tiny bloody pieces,
Unspoken by Sarah Rees Brennan
is also the book for you. Because the characters are so messed up, the choices are so unendingly complex, and the circumstances are so brutally awful that everything makes you want to cuddle that stuffed bear you've had since you were eight affectionately named Cocoa and rock for
all of life
. It is that bleak, and if you can't handle it, then traipse elsewhere.
Content Warning:
Animal sacrifices, missing persons, murder, and profanity could be a deterrent for those of you not capable of stomaching blood and reasonable curses. That is all I can remember to warn you about.
Blog Rating:
Perfect Bed Partner

In the most inappropriate way you can imagine (or can't), PBP books are the books you want to tangle in the sheets with they're so bloody brilliant.
Goodreads Rating:
4 out of 5 stars
Favorite Quotes/Scenes:
The following scenes are all about Kami's family. Jared's reaction to them and the relationship Kami possesses with them and they with each other as a unit. LOVED the characterizations in this book.
"Who are you?" Tomo asked Jared.
"This is Tomo," Kami said, even though Jared knew this, just so she could add, "It's been seven years since the evil fairies sent him to us as a curse. We're still not sure what we did to offend them. And this is Ten. He is ten, and yes, we know how horrible that is. We are going to throw the biggest birthday party for him the Vale has ever seen when he turns eleven."
"What are you doing here?" Tomo wanted to know. "I've never seen you before! Do you know any Snoopy songs?"
"Uh, no," Jared said. "Sorry."
"Stop bothering my guest," Kami ordered.
"If I do…" Tomo began his bargain. "If I do. Can I have four glasses of lemonade?"
"No."
"Why not?"
"Because if you drank four glasses of lemonade, you would explode," Kami said. "Dad would come downstairs and ask, 'Where is my youngest born?' and I could only point to the floor, where all that remained of you would be a pool of lemonade and a heap of sweetened entrails…"
Ten slipped out from behind him and made a beeline for the bakery box, where he politely stole the lone brownie from under Tomo's nose.
"Camilla, Henry, Thomas, you greedy monsters," Dad said. "Not a crumb left for your father? That's it, you're not my children. You're just sad, bald monkeys I won from circus folk at a poker game."
Ten retreated with his prize and went back to lean against Dad's leg. He split the brownie in two and offered half silently up to Dad.
"Well," Dad conceded, "I guess you might be my kid after all."
Ten smiled his rare smile, Mum's smile, then hid it against Dad's shirt. He followed Dad as Dad made his way to the counter, a solemn bespectacled moon orbiting his sun.
Dad took Mum's face in his hands and pulled it down two inches to kiss her mouth. "Claire," he said.
"Jon," said Mum, "please stop calling our children by names other than their own."
Dad released Mum and grinned. "Aren't those their names? I could've sworn they were."
Kami peeked around the door, vaguely surprised Angela had made it there so fast. Instead, she found Rusty stretched out on the hearthrug with his arms behind his head.
"You disgraceful object, said Kami. "What are you doing here?"
"I'm buying a shotgun," Dad announced. "I live in the country. A shotgun is a reasonable thing to own."
"Rusty, Dad needs to work and I'm going out, so you're babysitting."
"I like that word," Rusty said, settling down for a nap. "Come, babies. Let us sit together." Tomo sat down in the vacated spot by Rusty's head and began pulling his hair. Rusty smiled beatifically and did not open his eyes.
"Why are you putting on lip gloss, my daughter?" Dad asked. "Trip to the library? Trip to the nunnery? I hear the nunneries are nice this time of year."
"Not a date, I still remember Claud," Rusty said, and grabbed her ankle. "I forbid it."
"You introduced me to Claud," Kami pointed out.
"I'm a bad person," Rusty mumbled. "I do bad things."
"Is this true, Kami? Are you going out on a date?" Dad asked tragically. "Wearing that? Wouldn't you fancy a shapeless cardigan instead? You rock a shapeless cardigan, honey."
| | |
| --- | --- |
| OTHER REVIEWS: | GOODREADS SUGGESTS: |
..............................................................................
Got something specific in mind? Dare I believe I might NOT have covered something you wish to know? If so, let me know down in the comments section. Also, if you and your significant other shared a link between minds, how do you think your relationship would fare with the change in place?